How to Teach English in Thailand with SEETEFL
If you were thinking about teaching English abroad and specifically in Thailand, Then this Article about How to Teach English in Thailand with SEETEFL is definitely for you, because you will learn not only how they can help you find an ESL teaching job, but also help you Directly with Your TEFL and CELTA Certification In the Beautiful Thailand itself!
But first Lets do a short introduction About Teaching ESL Abroad in Thailand.
Becoming an ESL Teacher in Thailand
Thailand has already been for decades an incredibly popular destination for teaching English and it's popularity has only increased since the start of the new millennium(The year 2000), English speakers from all around the world have come to this beautiful and exotic Country, not just to teach foreign students English or even the salary, But more for what the country offers,
Which is an entirely different and more slow paced environment compared to our usual western counterpart, Asia in generally is a more relaxed environment and Especially more in countries such as Thailand, a lot of travelers who decide to stay there for just a couple of weeks or months end up spending years there,
Of course, the tropical climate probably also helps a little bit, but it's more the people of Thailand and it's Culture which captivates anyone who dares to venture there, it magnetizes you, naturally hypnotizing the unknowingly traveler that simply just seeks to have a nice and *short* holiday, not knowing that they will be in for quite a surprise.
A tropical Paradise
Thailand is know the be a tropical paradise for many decades, a lot of people retire there once they have earned themselves a sustainable income, which doesn't even need to be that much, with the low cost of living there and the cheaper priced(But very Delicious) food, the averaged middle income earner can live almost like a King there,
It's really no surprise why this country has been a very popular destination for many English teacher for Many decades, most who teach there don't actually do it for the money, but more to live a comfortable and happy life for themselves, Personal Happiness is probably the biggest search for many people around the world(If not most People),
And that's most likely the biggest reason why many who venture to Thailand, stay there for years or even decades, So if you truly want to teach in Thailand, be in for a culture shock which will change your life forever, but definitely in a good way, ESL Teaching is fun, but Teaching ESL in this exotic country is fun and Ecstatic!
The requirements for teaching ESL
Although Thailand is not really strict when it comes to Native and non natives speakers, they do usually have a certain set of requirements which makes a candidate illegible to teach ESL there,
And these Requirements Are:
A Bachelors degree or higher in any field

A

TEFL

or CELTA Certificate(Or other certificate)

In some cases you may need Two years of teaching Experience
Few Schools May require that their prospecting teacher has at least two years worth of teaching experience(In any field), but this usually is the case for Universities or high schools,
But still, to get a job in Thailand isn't so complicated, especially if you have a company or company/course provider to help you out and this is where SEETEFL comes in,
Before we move any further, Lets first have a look at their short video here below.
How to Teach English in Thailand with SEETEFL – Your Teaching Certificate & Job Prospect

Treat Yourself to an unforgettable TEFL Adventure in Thailand, Join a group of Max Twenty trainees and earn your TEFL(And CELTA) certificate together, instead of just sitting behind your computer or laptop trying to earn your Certificate Online, As the saying goes, the more the merrier! Do your TEFL Course with fun and adventure, better yet do it in a group where you can have all the support you need!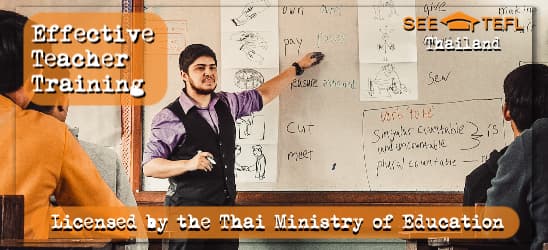 Training & Work
You can do your TEFL Course onsite in Thailand, do it in a group together and once finished, SEETEFL Can even help you get a job or internship there, they are connected to countless of schools, both public and private, a regular Online TEFL course can take months to finish, but with their onsite course, you can finish it within 4 week!
You will be learning directly in their training center in beautiful ChiangMai, which also means you will see firsthand how teaching ESL really works, Yes, you will even be invited into other ESL teachers classroom to see their classes and obtain valuable knowledge and skills about teaching English, you will observe real practices with REAL students,
So not only will you be personally trained in English teaching, but you will also get some of the experience you sorely need, you will have an All in one package at your disposal, if i personally knew about this opportunity myself years ago, then i would have definitely gone for it, Let SEETEFL Do all the hard work for you and the only thing you need to do is participate!
Course Summery & Course Prices
Check some of the course summery below:
Course summery:
Days of training are Monday to Friday 9AM – 4PM

Training groups are limited to 20 trainees

See TEFL can help you arrange accommodations, You can just do the easy part which is Signing up!

Includes 6 observed teaching practices with real students at a range of local schools

4 weeks of onsite classroom skills training in Chiang Mai, Thailand

Get yourself teaching experience by volunteering Through See TEFL in Thailand!
As you just noticed, the schedule is from Monday to Friday, from 9AM to 4PM, Meaning you have the afternoons and weekends off for some home work and of course… some time for fun and Pleasure! Good Food, No wait.. Delicious food, Drinks, bars, clubs, restaurants and of course GREAT company!
But make sure not to overdue it…, one of the biggest reasons why students fail their tests is because of well… not showing up for classes, too much fun and drinking(I did mention Thailand was hypnotizing didn't i?) which in turn leads to a terrible failed course,
I'm not being your parent here, it's your life, do what you want, it's okay to have some fun and all, but please(and I'm just recommending here), just follow your classes as well and get your certificate, once that is all finished and you can get your job, then by all means, go out for some more fun and Celebrate!
Lets move on the the course Prices
The Prices:
The Regular price is $1595,-
However there are discounts As well:
Discount One: Early bird price is $1495,- (Save $100,-)

Discount Two: Super Early bird price is $1395,- (Save $200,-)

The TEFL Internship + course option (For Native speakers) is $1295,-
This is the full price of the course, no hidden fees or shadowy stuff like that, what you see is what you get, in fact, These are some of the cheapest prices in the world, why? Well because it's Thailand, everything is much cheaper there, which also means the courses are cheaper, but not to worry, The Quality is very high and their courses are recognized world-wide.
Now it's time for the Pro's and Con's!
The Pro's And Con's of SEETEFL
Lets Start with the Pro's:
Naturally, You're in Tropical Thailand!

You will be in a group of Max 20 trainees and you will always have support

You will be learning in a fun and encouraging environment

You will observe actual teaching practices with actual students

Have much More knowledge and information than most other starting ESL teachers

Earn a TEFL certificate of the highest Quality

Enjoy Thai culture and everything it has to offer you
Naturally there are quite a few more Pro's, but ill leave it to you to discover it for yourself. 😉
And Now for the Con's:
Instead of sitting comfortably at home, you will be doing classes in Thailand, which for folks who do not like traveling, may seem like a turn off..

Compared to an Online course, an onsite course is more on the pricey side, but in the end it's far more valuable and educational than an ordinary online course, plus doing onsite classes makes you more friend and more importantly more connections.
These were my only two con's with SEETEFL, although an online course is more cheaper, it's value is also usually considered to be lesser than that of an onsite course, simply because doing classes onsite is much more realistic and can offer a new prospecting teacher with far more Value, Skills and experience.
Interested in Teaching English Online? Then Click here to learn.
Recommended or not?
Do i personally recommend SEETEFL to help you for getting an ESL job in Thailand? My answer is Definitely Yes, as i said before, had i known about this opportunity before, then i would have definitely done it, because an Onsite course is so much more valuable than an online course, Also, it's just way more realistic and you will have the opportunity the observe classes directly,
You can personally also ask any questions you may have and have them answered straight away, it takes away the tension and stress you may have as a starting teacher, so in many ways Onsite courses are just way more beneficial and especially the programs offered by this company are extremely effective,
So if you are thinking about teaching English in Thailand, then i definitely recommend this company as your guide to reach your desired goal, plus have unforgettable adventure during the process, So take action and get started Today!
Click Here to Start Your English teaching adventure in Thailand Together with SEETEFL!
Got Any questions or comments? Then feel absolutely free to comment away here below into the comment section!
Summary
Article Name
How to Teach English in Thailand with SeeTEFL
Description
Learn how to Teach English in Thailand with SEETEFL & become a TEFL Certified teacher, Start your ESL Adventure for Thailand Today! Learn More....
Author
Publisher Name
Publisher Logo